Water is life; there is no place that saying is more accurate than on a ranch. 
Water is needed for agriculture to keep crops irrigated and even keep soil from eroding in the wind. Some state's farmers have the fortune to use rainwater exclusively for their crops, many more must-have irrigation to produce their products. Animals on a ranch, from cattle to emus, require water, not just for their feed but for their daily supply of water. The land dictates whether the herd is hydrated from a trough or a pond.
How does a ranch get its water?
Depending on the ranch's location, ranchers can procure water for one of two sources, each with its own set of laws and rights around its use. Ranch water can be from the underground aquifer by well or pump, or it can be accessed directly from the land, in streams, or ponds. Having open water is referred to as live water. To break down a few differences between these two types of water rights, we compare Texas and Montana. States and counties may have varied and nuanced laws beyond these general statements. It is essential to research and use a reputable broker to purchase ranch land and water rights properly.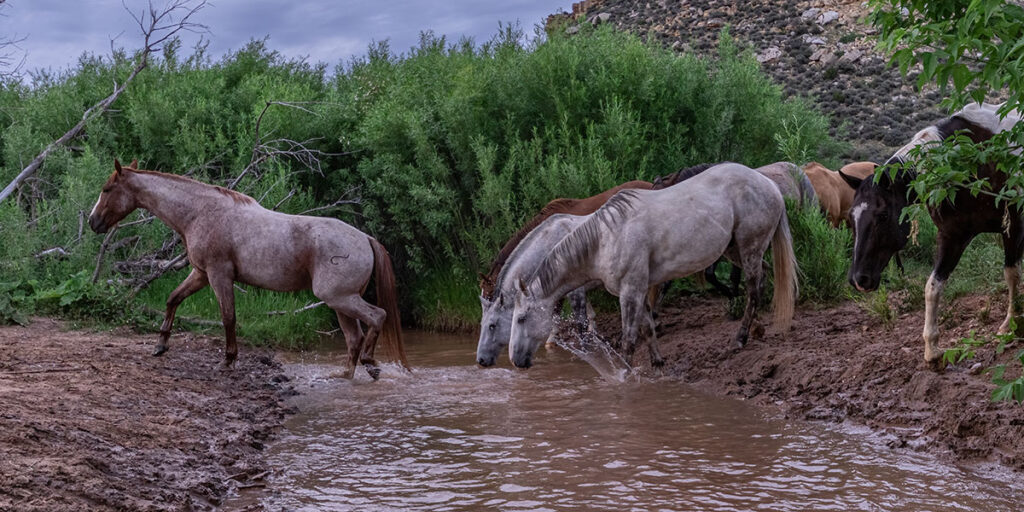 Water taken from the aquifer below-ground can be expensive, depending on how deep a rancher must drill. Texas and Montana's example states require ranchers to obtain property rights to the water below their ranch. In Texas, there is not a specific volume of water that may or may not be taken, provided it is done for lawful purposes; a rancher can't just draw down the water table to hurt other ranchers. Montana requires a specific volume of water to be stated as part of its permitting process. Changes in water needs may require ranchers to apply for additional permits. In both states, water rights are separate from property rights, so buyers should be check to make sure they purchase both when purchasing a ranch.
Above groundwater is the hallmark of good ranching land. Suppose the live water utilized is a navigable stream or river (navigable being the ability to boat down it). In that case, use permits must be applied for in both Texas and Montana. This applies to agriculture more than ranching since there is no use permit for ranchers allowing their herd to drink from the bank. For ranches with private ponds and lakes, the water may be used however the owner wants, provided it is not negatively impacting surrounding properties.
A bonus of live water ranches is the secondary form of revenue. Rivers and streams that run through a ranch can hold fantastic fishing opportunities. The river banks are private and accessed only by the property owner, creating a draw for anglers looking to escape crowds. Ponds and lakes on ranches can also make for great fishing, depending on the depth of the pond. Shallower cattle ponds also make fantastic duck hunting during the season and can be a draw for many hunters looking to hunt without the need for boats, blinds, and decoys.
Water rights are a nuanced and complex issue. Because of this, the team at UC Ranch Properties is well versed in local and state laws to make buying or selling your ranch as clean-cut as possible.
FEATURED LIVE WATER PROPERTY