PARELLI'S SELLING HIS PAGOSA SPRINGS RANCH, BUT HIS CAREER IS FAR FROM OVER
Reading horses and changing how we interact with them, Pat Parelli's impressive career accomplishments have left a massive footprint on horsemanship worldwide. Parelli is best known as the founder and mastermind behind the Parelli Natural Horsemanship program, but his involvement in horsemanship, training, and building a legacy extends far beyond his namesake.
Parelli is well into a decades-long career, and he's still making major moves in business and life – like selling his ranch in Pagosa Springs and bringing a few new ideas to life with Parelli Natural Horsemanship.
Parelli Has Horsemanship in His Blood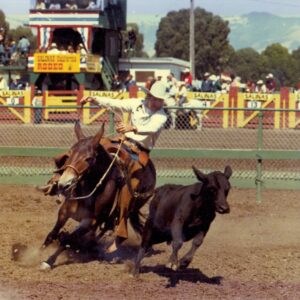 Born in 1954 in Livermore, California, Parelli developed a passion for horsemanship at an early age. As a teen, he started competing in rodeos, even winning the title of Professional Rodeo Cowboys Association's Bareback Rookie of the Year in 1972.
As Parelli gained more notoriety in the rodeo circuit, he challenged himself to start training mules, treating them as he would a horse. In the late '70s and early '80s, he rose to public prominence when he rode a mule – named Thumper – in the National Reined Cow Horse Association Snaffle Bit Futurity and took home third prize. According to Parelli, they later updated the rules to state that only horses could enter – what some people now call "The Pat Parelli Rule."
His success in professional rodeos opened many doors, including a mentor relationship with Troy Henry, one of the greatest western horsemen in the United States. Over the next five years, Henry took Parelli under his wing, teaching him to be a horseman, not just a horse trainer. After Henry passed away, Parelli dedicated himself to spreading Henry's philosophy of real horsemanship.
The Start of Parelli Natural Horsemanship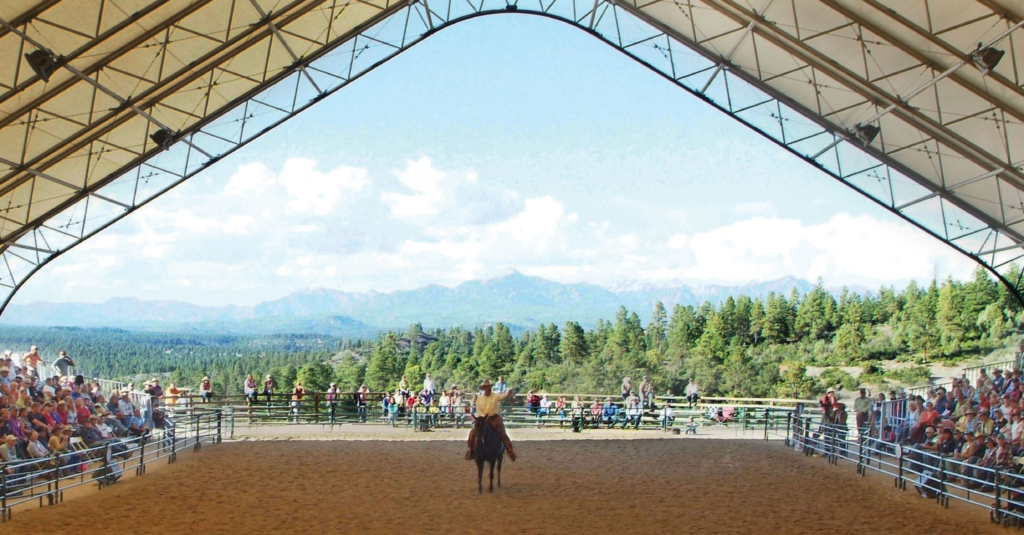 On March 1, 1982, Pat Parelli gave his very first seminar – for which he recently celebrated the 40th anniversary at the World Equestrian Center in Ocala, Florida. He followed the teachings of other great horsemen at the time – like Ray Hunt, Tom Dorrance, and Ronnie Willis – developing an approach to horsemanship focused on leveraging the horse's natural instincts versus working against them. 
In 1985, Parelli Natural Horsemanship became an official business. "I wanted to quit training horses and start training people," Parelli said. "I would train horses, and the horses would fall in love with me. Then, they'd go home with their owners. The owners didn't change, and the horses reverted right back to their old behaviors."
He founded Parelli Natural Horsemanship based on the philosophy that communication, psychology, and understanding rather than mechanics, fear, and intimidation can change a horse's behavior. Since its inception, Parelli Natural Horsemanship has established worldwide recognition and offers courses, online education, campus study, events, clinics, clubs, and more.
27 Years at Parelli's Pagosa Springs Ranch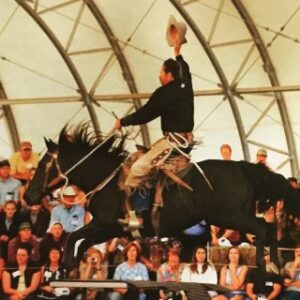 "To help horses, you have to help people understand horses," Parelli said.
That mantra guided him through hundreds of thousands of miles of world travel to conduct clinics. To date, he's presented in front of more than 2 million people, including President Ronald Reagan, Tom Selleck, Tony Robbins, and the Queen of England.
Amidst the success of Parelli Natural Horsemanship, Parelli found himself on the road frequently, traveling the world for seminars, workshops, and horse training events. By 1995, he was living in a motorhome, traveling around the U.S., Canada, Europe, and Australia.
Parelli knew that wherever he decided to stop the wheels needed to be special. He wanted greenery, and mountains, and to be able to enjoy every season. After looking around the globe, he remembered Pagosa Springs from a trip home to California, and it checked all the boxes.
Mayor Ross Aragon, who helped Parelli board his horses back in 1986, started sending him promotional material to move Parelli Natural Horsemanship headquarters from Clements, California to Pagosa Springs, Colorado. In 1995, he finally purchased a ranch there
For the past 27 years, Parelli's Pagosa Springs Ranch has played a vital role in the growth of Parelli Natural Horsemanship. Namely, it's been the home of Parelli's International Horse Psychology Summit for 25 years, an event that attracted so many thousands of people that Parelli had to downsize because the area's hotels couldn't accommodate many more. After all, Pagosa Springs is home to fewer than 2,000 lucky residents.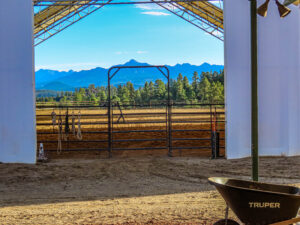 Pagosa Springs is a small town in southwest Colorado best known for its natural hot springs and proximity to the San Juan National Forest, which consists of the Weminuche Wilderness and South San Juan Wilderness areas. Thanks to the stunning nature, Pagosa Springs has a rich history, attracting Spanish explorers and fortune-seekers who wanted luxury, nature, and serenity in their backyards.
While the town is quaint, the activities are rife, and residents enjoy flourishing nature and billion-dollar views, which Parelli's ranch has in abundance. One of Parelli's favorite areas is the covered arena, which perfectly frames Pagosa Peak, the San Juan Mountains, and the Weminuche Wilderness area.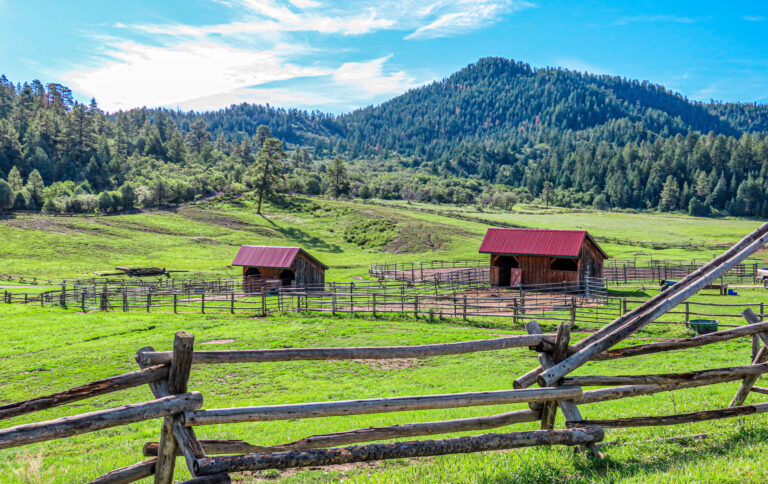 "This is one of those special pieces of property that when you get on it, you just feel the energy here, you can see the views, you can feel the wilderness," Parelli said. "It really does have everything you need."
What's Next for the Ranch?
Parelli has given countless years and hard work to make his Pagosa Springs property suitable for his pursuits and growing Parelli Natural Horsemanship, creating diverse opportunities for the new owner too.
"This is one of those special pieces of property that when you get on it, you just feel the energy here, you can see the views, you can feel the wilderness," Parelli said. "It really does have everything you need."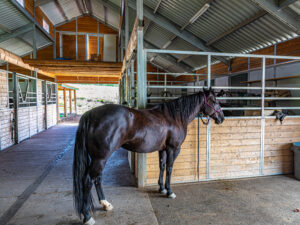 When Parelli moved to the Pagosa Springs property in 1995, it had a lot of run-down buildings, seven miles of barbed-wire fences, and an older ranch house. Since living there, Parelli has remodeled the house, installed roads, and constructed several buildings, arenas, corrals, and more.
The trophy ranch is an ode to Parelli's hard work and dedication, perfect for a seasoned horseman, equestrian enthusiast, rancher, wilderness appreciator, or entrepreneur.
The terrain could keep someone entertained for years, featuring rolling grass meadows and wooded hillsides bordering the San Juan National Forest. The 646 acres include 318 deeded acres and an additional 328 acres of state-leased land, which is transferable and renewable.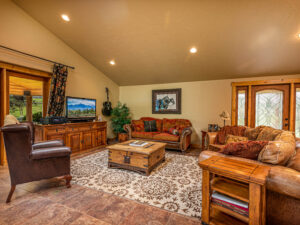 The property also features a two-bedroom, three-bathroom main house (with an office), that Parelli fully renovated when he purchased the property and has maintained over the years. Two covered patios frame beautiful views of the surrounding mountain ranges.
For ranch hands, event attendees, and guests, the ranch features a second four-bedroom, two-bathroom home, 15 guest cabins, 22 RV hookups, and a commercial kitchen with a dining area that seats over 100 guests.
Several riding and roping arenas, corrals, loafing sheds, tack rooms, and storage buildings are scattered throughout the property, allowing multiple events to take place simultaneously.
Aside from the views, terrain, and National Forest access, this property's main selling feature is its proximity to the town of Pagosa Springs. In just five minutes, you can go from riding your horses on miles of mountainous trails to sitting on the patio of a restaurant lining the quaint main street.
"Pagosa Springs is the last best place on the planet. I think this ranch is the last best ranch on the planet," Parelli said.
What's Next for Parelli Natural Horsemanship?
While Parelli may be relocating his headquarters, there's no end in sight for Parelli Natural Horsemanship. The future is perpetuity for the already established membership, events, and retail business, and a new nonprofit to support a year-round campus on Parelli's Ocala, Florida property.
"Our vision is to create a not-for-profit organization that perpetuates the school, which we call the 'Harvard of Horsemanship.' Our goal is to teach future horse trainers and professional instructors," Parelli said.
Parelli put his heart and soul into cleaning up and developing the property into a functional showcase property to satisfy his passion and inspiration. Now, he hopes the ranch can inspire a new owner too.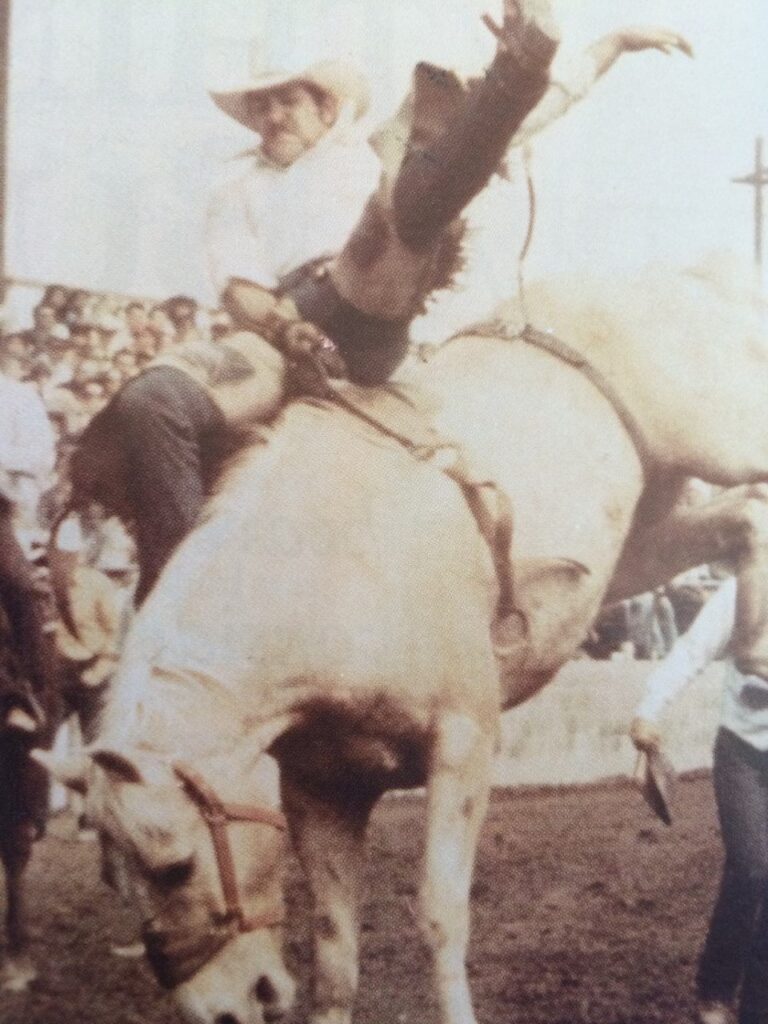 "This [ranch] has been a real labor of love - a real passion satisfier for me," Parelli said. "It will be one of my landmark legacy memories that I have for the rest of my life."