Cattle ranching is the foundation of much of America's ranching heritage. Cowboys or cattlemen were the backbone of America's early economy, driving the growth of railroads, towns, and international trade. While less adventurous than in the past cattle ranching is still a mainstay of American agriculture.
There are more than 70 registered breeds of cattle in the United States. Each breed is unique in its adaptability and uses.
The Black Angus is the most popular beef cow in America. Its high yield, great flavor, and excellent marbling have made it a staple of the US food world. Black Angus was introduced in the 19th century. With the breed's low maintenance in both feed and calving, it makes an excellent choice for cattle ranchers today.
Holsteins are the iconic cow. Black and white with a large frame these docile cows are most commonly used for dairy production. Holstein steers offer a consistently high quality of beef owing to the fact that Holsteins are rarely bred with other types of cattle.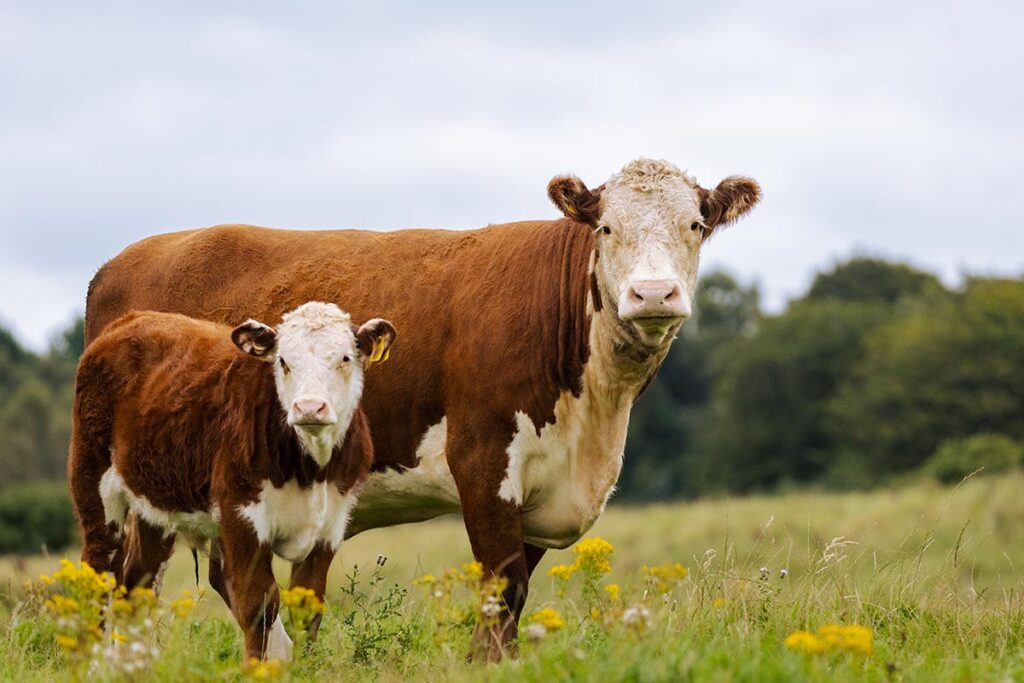 Originating from England, this cattle breed matures early and is easy to breed. Herefords feature a large-framed body with a red body and white face, feet, belly and horns.  Before Angus, Hereford was the leading American beef breed. 
No list of American cattle would be complete without the Longhorn. This hearty breed is the direct descendent of the cattle brought over by Spanish explorers more than four hundred years ago. The rich flavor, lean overall fat, and high marble of the Longhorn have made it a world-renowned breed. Longhorns are best suited for large ranches in arid climates.
The Highland from Scotland is a unique breed that has made a surprisingly strong entry into the US. The long horns and double coat of the highland allow them to cope with harsh winter climates which is a boon for more northern ranchers. The Highland's ability to thrive on nearly any feed makes them adaptable to grazing almost anywhere. The meat of the highland is well marbled and leaner than many other American breeds.
While the French Charolais was not introduced to the US until the 1930s, it is widely regarded as the most important breed in US beef production history. The Charolais is a rapidly growing large frame cow that milks well and can even be used as a beast of burden should a field need to be plowed. Their rugged adaptability has allowed herds to develop across the nation.
There are cattle ranches from coast to coast, from the shores of Lake Okeechobee to the shores of Lake Kenai. There are nearly enough cattle breeds to have a different herd in each ranch. This article has only scratched the surface of the world of cattle ranching, but with this baseline knowledge of the top cattle breeds in the US you can start to see what type of cattle might be most appealing for you to ranch.