Overview
Updated On:
July 23, 2021
Property Description
Recreational Ranch with Home For Sale in Gunnison County, CO
The Danni Ranch is known as one of the premium Rocky Mountain addresses for the buyer looking for the ultimate combination of amenities and Colorado mountain lifestyle. Each home in this luxury mountain subdivision has its own parcel of at least 35 acres, but also common access to fly-fishing, horse trails, pastures, and ponds, plus private access to thousands of acres of National Forest lands. The East River, which flows into the Gunnison River, is one of Colorado's most productive trout streams, and the Danni Ranch offers homeowners spectacular fishing on private waters that flow through the ranch. The Danni Ranch is ideally located only 10 miles from the ski runs at Mt. Crested Butte and an easy 20-minute drive to the Gunnison Regional Airport.
Crested Butte, CO Mountain Luxury–Two Homes For Sale
The home at 449 Red Mountain Road offers a unique opportunity to host multiple parties or families, in that it is basically two distinct homes that are attached by a breezeway. Built in 2017, the original home is a 2-bedroom, 2-bath mountain getaway situated on a 41-acre parcel above the valley between Crested Butte and Gunnison. The views are simply amazing. In 2021, the current owner has begun construction on a second 2-bedroom, 3-bath wing to the home which will double the size of the home to 4,281 total square feet. The architectural style could be classified as modern mountain, with high ceilings, large windows, fairly steep roof pitches to accommodate heavy snow loads, and a style reminiscent of old mine tipples.
Colorado Recreational Ranch & Home For Sale in Almont, CO
The recreation enthusiast will have a multitude of choices at the Danni Ranch, which offers exclusive access to the East River for fly-fishing, as well as stocked ponds for kids and friends. The horse pastures are available for homeowners to keep their own riding horses, and trails beckon riders to go exploring. The upper side of the ranch borders thousands of acres of National Forest lands in Colorado Game Management Unit 54, granting easy access to lands that others cannot easily reach. Elk, mule deer, bear, and grouse are numerous right above the Danni. Skiing and snowboarding at Crested Butte is a short 10-minute drive from the ranch, as well as world-class restaurants and shopping. Mountain biking, hiking, rafting, boating, 4-wheeling, and many more outdoor sports are immediately accessible.
Value priced Crested Butte mountain retreat property can be finished to the buyer's specifications and tastes
Livable space will soon double in this mountain home, as construction is currently in progress on the 2,000-square-foot, 2-bedroom, 2-bath addition with a 2-car garage. Current pricing reflects the state of incompletion. Currently the addition is framed and roofed with concrete floors with radiant heat loops. Windows have been installed. As construction progresses with rough-in wiring, plumbing, drywall, texture, paint, flooring, siding, trim, and lighting and plumbing fixtures, the listing price will increase. Buyers have a great opportunity to buy at a bargain price and put their own stamp on the project and finish it to their own taste.
The Town of Crested Butte
Crested Butte is known for many of it's spectacular recreational aspects. Being home to some of the best mountain bike trails, long meandering streams holding large trout, endless hiking paths, high altitude lakes, and skiing that satisfies the top athletes in the world, this town has everything for the outdoor enthusiasts. If that isn't enough, downtown CB, also known as Elk Ave, is known for its variety of cuisine. From nationally ranked pizza restaurants, cozy coffee shops & bakeries, steakhouses, sushi, italian, and mexican; there is a dish for everyone. As for the town's shopping, there are plenty of locally owned stores including art galleries, gift shops, mountain apparel, jewelry, and outdoor sport stores. If you are only visiting and not prepared with a mountain bike, standup paddle board, skis, or camping equipment, the town of CB has you covered with many options for rentals. There is never an excuse to not enjoy all that Crested Butte has to offer.
Listing ID: 05022-20003
Property Id : 15764
Price: $ 2,500,000
Bedrooms: 4
Bathrooms: 5
Listing Number: 05022-20003
Property Size (AC): 41.7
Other Agents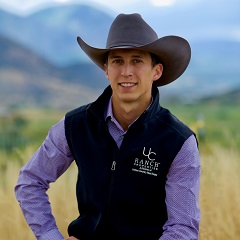 Broker Associate
Jake Hubbell – Colorado Ranch Specialist Colorado Real Estate Broker Jake Hub
...
Similar Listings
$ 3,950,000
Listing ID: 05022-20000
4
4
35