000 6th Ave, Hancock
add to favorites
Massive Hunting & Recreational Land Tract For Sale in Hancock, WI
The Land & Country Home Specialists of Wisconsin are proud to introduce you to a brand-new property that just hit the market! This massive 984.68+/- acre estate is a recreational utopia for those with a large appetite for premium ground rich in wildlife. You'll find this goliath vacant land tract located in Adams County, Wisconsin among a picturesque forest bursting with animals, ATV trails and multiple cold-water creeks. This wondrous escape boasts unprecedented potential for a Corporate Retreat, Hunting Outfit, Savvy Investment or simply your very own world-class trophy hunting haven – on a dead end road.
This whimsical real estate harnesses a world of possibilities among being one of the very largest contiguous tracts for sale in Wisconsin. You'll find three access points into this mesmerizing arcadia along multiple roads. There's roughly 100 acres composed of open ground with meadows and areas that were once planted in AG. Several acres can possibly be converted into food plots near 6th ave to offer an immediate food source. At the very northern boundary, you'll see a clear, sand bottom stream named Dry Creek, which flows westerly and known as a valuable warm water forage fishery. Carter Creek, which is classified as a trout fishery cuts across the center of this property offering both beauty and elegance to such a grandeur getaway. The dynamic mix of open land, creeks and timber provides an everlasting sanctuary for deer, turkey and other critters.
Rural property comes in all different shapes and sizes, but often times location is an integral part to the overall appeal. You'll find both Petenwell and Castle Rock lake within 11+/- miles from this property offering famed fishing, boating and multiple lakeside restaurants. The ATV and snowmobile trail route are nearby for endless miles of adventure cruising. In addition to the countless outdoor sports this region is most recognized for, the Water Park Capital of the World, Wisconsin Dells is only an arm's reach away!
The marvelous earmark of this paradise may not be limited to the winding cold-water streams, but perhaps the captivating diversity of ecosystem. Outdoor enthusiasts travel hundreds of miles to this region of the state for birding, hiking and foraging for natural wild edibles like berries or mushrooms. The land consists of aspen and oak forest featuring areas of lowland brush and sedge marsh. There are several small open meadows that you'll find stamped down with deer beds. The proximity of the ground is near the Colburn Wildlife Area, which is about 5,000 +/- acres of wildlife bliss managed by the Wisconsin DNR. While whitetail and turkey may be the most prevalent to this area, you'll find ruffed grouse, sandhills cranes, badgers and more that call this wonderland home.
Topography is relatively flat making it incredibly easy to traverse by foot or ATV. As you penetrate the interior of the land, you'll find countless deer trails crisscrossing in every direction. Neighboring farm fields to the west offer destination food sources for game. However, the dense forage and browse within these very boundary lines provide a buffet of food. There's a litany of options for secluded food plots and staging areas to hang tree-stands.
Real estate of this size simply doesn't pop-up in this neighborhood often, which adds a riveting component to the desirability. It's safe to say that this sought-after neighborhood begs attention for those seeking recreational freedom. Per Adams County 2018 Tax Roll, taxes are $24,331. There's only a single 40-acre parcel enrolled in Managed Forest Land Closed. For a significant reduction in Taxes, Buyer may enroll more acreage into program. The sellers would consider splitting the property, which is highlighted below and illustrated on a Map located in the photo gallery.
440+/- Acres for $1,320,000.00
363+/- Acres for $1,089,840.00
4+/- Acres for $544,200.00
To say that this estate is worthy of your attention would be a vast understatement. We are talking a once-in-a-lifetime buy. You won't find a similar property for sale in this region that offers a multitude of extensive recreational opportunities. Now is the time to take advantage of this world-class estate.
Property Id : 9454
Price: $ 2,954,040
Listing Number: 48036-65349
Property Size (AC): 984.68
My details
Land Specialist/Realtor
Skip the ones you do not need - they will not display
Contact Me
Schedule a showing?
Other Agents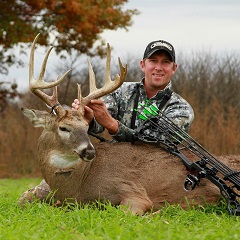 Contact me