Overview
Updated On:
July 22, 2021
Property Description
Hunting Land with Home For Sale in Vernon County, WI
You're looking at one of the most impeccable legacy estates to hit the market in the Midwestern United States. This private 199.21+/- acre masterpiece lies in the heart of Wisconsin's famed Mississippi River Valley region in Vernon County just 20-minutes from La Crosse. Taking its name from a canvas of intrinsic valleys hidden in ultimate seclusion, Lonesome Valley Retreat, is the consummate bluff country sanctuary. Set amidst an unspoiled landscape teeming with cascading bluffs, deep sweeping valleys and billion-dollar views. Meticulously appointed and maintained, the retreat affords a lifestyle without compromise, a place where grand entertaining, ultimate privacy and convenience are paramount. In an area well-recognized for Boone & Crockett class whitetail, pristine trout stream waters and the mighty Mississippi River, one only has to step outside to enjoy the bounties of this miraculous kingdom.
At the tail of a dead-end road you'll find a secured entryway that follows a blacktop driveway into a coulee of promise. Once inside the gate, a world of unique splendor and beauty awaits. This tucked-away, valley setting capstones solitude and accentuates tranquility. Recognizing this ideal location, no expense was spared to create the setting for the massive nearly 3,000+/- sq ft lodge built in 1983, which is truly an architectural wonder. This warm and rustic contemporary home comes fully-furnished with designer touches throughout. Rustic elegance is on full display within the estate, which affords 4-bedrooms, 2.5-baths, 2-stall attached garage, heated pool and so much more. Perfect as a family or corporate retreat, the property can easily and comfortably accommodate 10 or more overnight guests, who will be treated to world-class amenities.
Farm & Ranch with Home For Sale in Stoddard, WI
The two-story residence features divine majesty rooted in rustic ambience built to an exacting standard. Fanciful landscaping provides a gracious and welcoming entry while perfectly framing the home and timeless views. The prestigious Lodge overlooks endless sky-high ridges, emerald green fields and sits front row to Mother Nature's bounty. From top to bottom, the home was built to endure. The roof is capped and engineered with the only synthetic cedar shingles on the market, known as Enviroshingles, which are maintenance-free, hail, fire and wind resistant. Massive Rocky Mountain beetle kill 12" diameter logs were brought in from Montana to timber frame the house. Copper Flashing accents can be found throughout the exterior providing a prolonged lifespan and charming touch. A composite deck spans across the frontside of home for casual entertaining reinforced by a steel I-beam. The deck features an electric CraftBilt patio awning that comes in handy during those hot summer days. You'll find a masterful floor-to-ceiling two-story stacked fireplace decorated in Georgia Peach Stone accentuating both the grand room and lower level. In fact, 20-ton of rock was hauled and assembled to create this mesmerizing mosaic.
A gourmet kitchen is nothing less than a dream decked with granite countertops, island, Quaker Maid cabinetry and custom stained-glass accents. A walk-in pantry grants unlimited space for easy-to-grab items. Fireside Knotty Cherry wood envelops the kitchen for an ambrosial kitchen design. All of the appliances within the kitchen are of the highest quality. GE range, Sub-zero 650 Series fridge and Asko dish washer. The open concept kitchen flows into a palatial dining area. A master suite features an expansive walk-in closet and master bathroom. The entire home was specifically built and rendered to provide breathtaking views from every room encapsulating the bliss of being in the middle of your own fairytale. Thick pine board flooring and exposed timber beams gives this rustic rendezvous true American countryside pride.
On each side of the grand room, you'll find walk-out covered porches decorated with western flare. Walk-through a vestibule donned with sparkling stained glass that leads to the south side porch overlooking the front yard with a porch-swing. On the opposite side of the home, you'll find a northerly facing porch that is fully-screened. An elaborate wooden staircase leads to an extra 3-bedrooms and bath with the north bedroom featuring its very own balcony. The lower level centerpiece is a dramatic lounge room spotlighted by a cozy fireplace. A handy built-in root cellar provides ample space for wine, canned goods and more. The lower floor is attached to a built-in garage, half-bath, office and utility room. The utility room has a wired-in Gentran circuit to plug in a generator in the event of sudden power outages. The estate was truly built with everlasting pride and completely focused on perfecting magical views. In total, the home hallmarks over 885sq ft in deck space mostly composed of Trex composite decking. While it's certainly nice to feel like you're in the middle of God's Country without a worry, there is in fact high-speed fiber optic internet to work from the convenience of your home!
Behind the home, you'll be most pleased to find a divine pool party area setup with a tiki bar. The heated pool is 17x32ft and depths range from 4ft to 8.5ft. Imagine the excitement of entertaining family and friends to your very own lavish poolside retreat. Conveniently located nearby, a small pool building provides copious storage for all your swimming and pool supplies. In addition, the building serves as a changing room.
Stoddard, WI Hunting Land with Home For Sale
This is the hunter's stay, play, hoot-and-holler building. Located about 100-yards off the main lodge, this 50x80ft building not only provides a monstrous area for storing your equipment, but also serves as a hunter's rec room. Outfitted with a kitchen, dining area, TV, poker table and slot machine, this is where your hunting party gathers for late nights and early mornings. An area where everyone can come back and share their day's hunting tales over a few choice beverages. The facility will house a large group of hunters and is intended to model after the "old-school" hunting camp atmosphere – the type that we all grew up with and loved. In a separate room, there's a game cleaning space that handles everything from washing, hanging and cutting. The building itself has more than enough space to expand lodging or guest room quarters. An additional drilled-well separate from the Lodge services this bunkhouse and pole shed.
Vernon County, WI Hunting & Recreational Land For Sale
The land itself is truly a spectacle to be seen. There's over 4-miles worth of groomed trails for endless hiking, horseback riding or ATVing. There's not a single portion of acreage spread that can't be reached. A grand total of five wonderous valleys highlighted by five distinct ridges engulf the landscape forming an infectious awe-inspiring overlay. Multiple rock outcroppings protrude the hill points serving as sublime bedding areas for goliath sized whitetail.  Big deer is the name of the game in this neighborhood. The area has consistently produced world-class whitetail that continue to shatter the record books. The property has been at the epicenter for trophy class animals after endless years of Quality Deer Management. Several food plots, water holes and stand sites are already in place for a smooth turnkey operation. Some of these setups are overlooking feeding grounds, while others are dedicated to rut hunting setups. Each spot has been meticulously scrutinized to put the odds in your favor.
There's roughly 38+/- acres of open land on this estate dedicated to row crop production as well as small hunting plots. There're no such thing as small private land owner tracts in this hot-pocket. The ground neighbors nearly 300+/- acres of private land on the SW border, 214+/- acres to the East and almost 350ac to the north. That's nearly a total of 864ac split amongst only (3) unique private land owners! Include this tract and you're looking at exactly why this neighborhood produces world-class deer each and every year. A portion of the land is enrolled in Managed Forest Land – Closed to enhance the vitality of timber stands and wildlife. The current taxes are $7,102.93+/- annually.
Historic Hunting Property For Sale in Vernon County, WI
Once upon a time in the early 1900s, the estate served as a Dairy Farm – home to cattle, horses, pigs and chickens. The fields were planted in labor intensive tobacco which was introduced to the state back in 1844 by two Ohio natives. Much of Southwest Wisconsin's agriculture was dedicated to these leafy greens. More than 16,000-acres of Wisconsin's fertile soils were planted in tobacco. Those backbreaking settlers of antiquity are not forgotten. The current owners restored the colossal 37x80ft barn, which proudly stands as a memento to the not so distant past. Once chocked-full of dairy cattle, the barn serves as a workshop that's been completely revitalized.
Unlike neighboring communities, the village of Stoddard did not start up as a fur trading post due to the narrow slough about two miles from the main channel of the Mississippi. Instead, the area grew to serve the commercial and other needs of farmers. Atop the ridge, located behind the home, you'll find relics of an old stone foundation likely from the 1800s. This rare sight is truly a spectacle of age-old times in this mystical Driftless Region. These not forgotten treasures simply bring a robust beauty and rich history to Lonesome Valley Retreat.
Although it is privately secluded and secure, getting to the retreat couldn't be easier with year-round access from a county-maintained road. The property sits just a short distance from La Crosse Regional Airport which will accommodate nearly any size jet.
Listing ID: 48036-14190
Property Id : 15680
Price: $ 3,200,000
Bedrooms: 4
Bathrooms: 3
Listing Number: 48036-14190
Property Size (AC): 199.21
Land Specialist/Realtor
Skip the ones you do not need - they will not display
Other Agents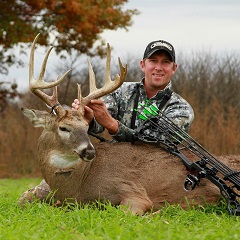 Land Specialist/Realtor
Joseph Nawrot – Wisconsin Ranch Specialist Joe is an accomplished former outdoor vid
...