Overview
Updated On:
June 16, 2020
Property Description
Colorado Mountain Horse Ranch & Hunting Land For Sale
Crawford, Colorado mountain retreat has easy year-round access, excellent hunting.
This Colorado hunting property has a gorgeous mountain home on 98 acres, close to National Forest lands with hunting, snowmobiling, horseback riding, 4-wheeling, and lots of mountain recreation. The home is a beautiful log home of 4,250 square feet, with vaulted ceilings, expansive decks, spacious game room and family room, large master suite, and a total of 5 bedrooms and 3 baths. Located 12 miles south of Crawford, Colorado, the ranch is surrounded by the West Elks mountain range and near the Black Canyon of the Gunnison.
Colorado equine property for sale, horse property for sale
The ranch has 98 acres, most of which is horse pasture. Irrigation is provided by runoff water from neighboring ranches. The pastures are well fenced with well-maintained rail fences. The horse paddock is fenced with quality metal fencing, and there are 4 stalls in the run-in shelter adjacent to the barn. The barn itself is insulated with a good workshop area and plenty of room to bring in a tractor or large pickup for maintenance. The property has three ponds that are full of water year-round and could be stocked for fishing.
Colorado GMU 63 hunting property for sale—trophy deer and elk hunting
Colorado is known for its excellent big game hunting, and this property is no exception. While it does not border public lands, many thousands of acres of public hunting are within a 10-minute drive from the property. The owner has harvested several nice mule deer bucks and several elk right on the property. Elk migrate through the ranch by the hundreds during certain times of year. GMU 63 is known as one of the best units in the state for trophy mule deer bucks, and many Boone & Crockett bucks have been taken within a 10-mile radius of the property. Elk hunting in the vicinity is excellent. There are good populations of bears, wild turkeys, and mountain lion as well.
Mountain recreation property is a great location for a corporate or family retreat—skiing, snowmobiling, ATV riding, horseback riding, hunting, fishing
This property has easy year-round paved access via Colorado Highway 92, which fronts the ranch. However, this road is little traveled and does not cause disturbing highway noise. Access is easy during the snowy winter months. Crested Butte is 1.5 hours to the east; Aspen is 2.2 hours to the northeast; and Telluride is 2 hours south. The Gunnison River, with its gold medal waters, offers terrific fly-fishing, and both Blue Mesa and Crawford reservoirs, with excellent fishing for kokanee salmon, lake trout, brown trout, rainbows, perch, and bass are in close proximity to this property. Just across the valley, the Crystal Creek area has many trailheads reaching into the high country, and all kinds of routes for horseback riding, ATV riding, hunting, hiking, and packing.
Property Id : 5120
Price: $ 1,149,000
Property Lot Size: 98.00 ac
Bedrooms: 5
Bathrooms: 3
Listing Number: 05022-16013
Property Size (AC): 98
Exclusive Horse Ranch with Hunting Land For Sale in Western, CO
Broker/Owner
Member of: UC Ranch Properties
Other Agents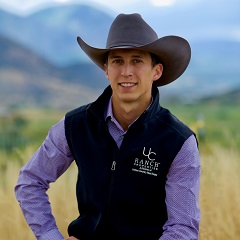 Broker Associate
Jake Hubbell – Colorado Ranch Specialist Colorado Real Estate Broker Jake Hub
...
Similar Listings
$ 1,750,000
Listing ID: 05022-10259
5
3.5
142 ac