Overview
Updated On:
June 18, 2021
Property Description
Colorado Mountain Hunting Land with Cabins, Cattle Operation For Sale in De Beque, CO
Brush Mountain Ranch is 1450 +/- acres located in Garfield County about 30 miles North of Grand Junction, CO. It has 3 cabins, multiple outbuildings, a 600 AUM grazing permit, and cattle working corrals. Situated atop the Bookcliff Mountains with commanding views of the Roan Plateau, Grand Mesa, Roan creek, Carr creek, and the Grand Valley, the terrain consists of rolling sage plateaus mixed with aspen, pine, juniper, and fir stands with multiple drainages. Brush Creek and five natural springs supply live water throughout the ranch. These features provide excellent habitat for both wildlife and livestock. The ranch sits at around 8500' of elevation and has seasonal access from May through November.
Garfield County, CO Off-Grid Log Cabins with Solar and Spring For Sale
Two nicely appointed cabins and a bunkhouse provide lodging on the property for owners, staff, and guests. Beautiful log and finish work throughout is a pleasant surprise to find in the off-grid cabins.  Power is provided to the structures through both solar panels and generators. Water is pumped from a nearby spring to be stored and used from the cistern. Propane heat, fireplace, and wood stoves keep them comfortable through the chilly fall temperatures. The large wrap-around decks provide miles of vistas and relaxation.
Colorado GMU 31 Hunting Property borders GMU 21, Offers Excellent Elk and Mule Deer Hunting–Property Includes Outfitting Business for Sale
The Bookcliffs are known for producing trophy elk and mule deer and both are in abundance on the property. The family has operated a successful outfitting business on the ranch for many years with harvest success rates close to 100%. BLM big game outfitting permits are included in the sale. The surrounding ranches are also managed for quality hunting opportunities so bucks of 180"+ and bulls of 300"+  can be harvested from the property each season. The property is situated in GMU 31 and does qualify for Landowner tags. Bull elk licenses are sold over the counter in the unit for archery, 2nd, and 3rd rifle seasons. Access is granted only through deeded easement which helps keep wildlife unpressured. With careful management, the outfitter has generated an outstanding success rate of close to 100% on elk, harvesting 20-25 bull elk a year and typically 3 very large mule deer bucks a year on the ranch and the adjoining BLM lands.
Mountain Cattle Grazing Land with Quality Improvements–Corrals, Fencing, Cabins
The Brush Mountain ranch is ideal for a cattle operation on both the deeded property and surrounding BLM lands. A 600AUM BLM grazing permit is included in the sale. Many improvements have been made to the ranch for livestock production, including multiple stock tanks, a horse pasture, and working/loading corrals in different areas of the property. The ranch is well fenced and in good condition. Lay down fence in certain areas prevents snow load breakage and easier migration of wildlife. Currently the owners are running  about 250 head from June 10-October 10.
Listing ID: 05022-19002
Property Id : 15164
Price: $ 3,500,000
Bedrooms: 3
Bathrooms: 2
Listing Number: 05022-19002
Property Size (AC): 1453
Cattle Ranch & Hunting Land For Sale in Garfield County, CO
Broker Associate
Other Agents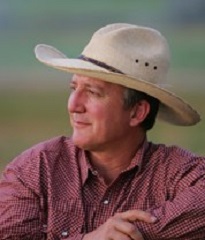 Broker/Owner
Colorado ranch real estate broker Gary Hubbell Gary Hubbell is a Colorado rancher, real es
...